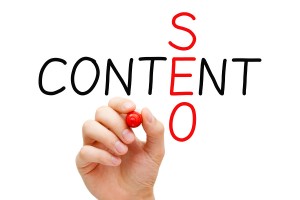 Does your nonprofit struggle with taking advantage of SEO content writing?
Your nonprofit may not have the funds to hire a part-time or full-time content writer, or you may not think your content is share worthy.
You don't want to post any old type of content on blogs and social media sites. It's important to think about how the end user will use your content.
Keep reading to find out 7 tips for SEO content writing for nonprofits; then leave a comment so we can discuss content writing for nonprofits.
7 SEO Content Writing Tips for Nonprofits
Whether you're a nonprofit that helps shelter animals find new homes or advocates for environment and conversation, there are important SEO content writing tips you'll want to consider.
Review industry trends
It's important for nonprofits to know what's going on within their respective industries. For example, if your cause is environment and conservation, you'll want to stay on top of the latest solar technologies. If a new technology becomes available, share it with your community.
Ask employees, volunteers and community members for suggestions
Employees, volunteers and community members have a wealth of knowledge. Why not tap into these resources to find golden nuggets of content? In fact, you may consider asking for suggestions once a month. Make a game out it. The winners could receive a gift card or even better, let them write the post (if they want to).
Learn the "hot button" issues within your industry and write about them
Like industry trends, there are "hot button" issues. Choose a few of them and give your opinion. Don't be afraid to give your opinion. Share your thoughts in a respectful manner. This will open up a dialogue with you and your community.
Read the content of other nonprofits
There is nothing wrong with reading the content of other nonprofits. Not only can you get content writing ideas, but you can see what other nonprofits are doing. For example, if a nonprofit shares GIFs (animated video) with its community, you may consider doing the same.
Newsjack a story
Keep your finger on the pulse of the latest news and news within your industry. You can piggyback or newsjack a story and relate it to your nonprofit. However, make sure you have a clear and unique angle for your content writing. For example, if you follow The World Cup, and your organization is a nonprofit for underprivileged children, you can "newsjack" the story. How? Relate it to an up and coming soccer camp for kids. Show how sports camp can teach kids leadership, team work, organization and other valuable skills. You can use newsjacking no matter your nonprofit.
Review a piece of legislation that may affect the community your nonprofit serves
Stay on top of the latest developments within the U.S. government and show how it may affect your nonprofit. If you find that a particular legislation may cause your organization to lose money, write about it. Take a stand and back it up with facts. Could some of your community members become upset? Maybe. Maybe not. Remember, you won't please everyone. It's not your job.
Share a success story
Show your community what you've been accomplished — share a success story. There are enough depressing things going on in the world. Use your content writing to inspire others. For example, if your nonprofit provides books to children, share a story of literacy success. Write about the number of books your organization has donated and how it's made a difference in the lives of children.
Content Writing for Nonprofits
Developing content for your nonprofit's website and social media networks can be easy, if you understand web content development. Remember, it's not about what you want to write. It's about your community members and what they want and need.
Don't limit your content writing to blog posts and articles.
You could create case studies, presentations, short eBooks and other materials.
Keep in mind that it's important to have a list of SEO content writing ideas. This way you won't stress out when you need to write and post something on your website and social networks.
Over to you. What tips can you share with regards to content writing for nonprofits? Let me know in the comments.