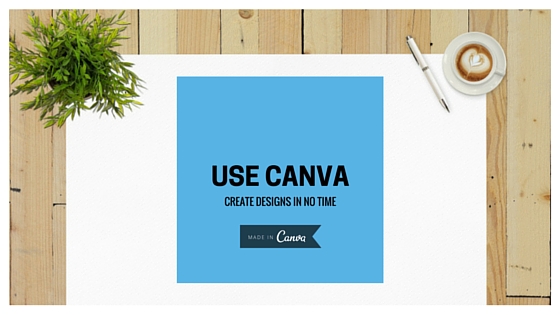 I've been using Canva: Canva: Awesome simple and easy to use graphic design software for some time. Even though I have Adobe InDesign and Photoshop, I choose to use Canva. Why? Because the software has pre-made design templates – this makes designing images, infographics, and more fast and easy.
While you don't have to have a background in graphic design, it doesn't hurt. I have a graphic design certification and worked as a graphic artist at an Ohio direct mail company (out of business), so my skills have come in handy.
But don't let this stop you or your marketing department from using Canva. Use it in conjunction with your favorite design software. You'll create Facebook, Twitter, Instagram, and Pinterest images in no time.
Read on to learn the top things you need to know about using Canva. Whether you're in the travel industry, accounting industry, nonprofit industry, or legal industry, the software will work for you. Warning! You may not go back to using your current design program.
These Are the Top Things You Need to Know About Using Canva
Free to Use
Canva is free to use, and it's super easy to create an account. All you need to do is sign up with your email address and create a password. Or, you may sign up with your Facebook or Google account. The process takes less than a minute.
Create Marketing Materials
Do you need a flyer for your nonprofit fundraising event? How about a gift certificate for your travel website? What about a menu for your restaurant? These are some of marketing materials that you can design. Choose a free layout and it won't cost you anything. Select a layout with images and you'll pay $1.00 per image. That's a small price to pay for marketing materials that may result in thousands of dollars.
Design Social Media Images
Let's face it; do you really want to remember all of the dimensions for each social media network? I don't think so. Canva takes the pain out of having to remember the size of a Facebook profile image or cover. All you have to do is choose the network you want to design for and create an image. Keep in mind that you may have to pay a nominal fee for some images.
Create Documents
Do you need to write a letter but don't want to use a word processing program? No problem. You can easily create a snappy looking document. Add your logo and text and your document will be completed quickly. You may also create a magazine cover or magazine for your business. How cool is that? If you've been thinking about implementing a magazine, use Canva. The sizing and layout is complete. All you have to do is add your information.
Use Custom Dimensions
If you want to design something, but need to use specific dimensions, Canva has you covered. You'll see "use custom dimensions" at the top of your design dashboard. Click on this and enter your dimensions. As an example, I entered 500 x 500. Once I entered my dimensions, I was taken to the design area. I could choose a layout, elements (free photos, grids, frames, shapes and more), text, background, and uploaded picture(s). Design has never been this simple!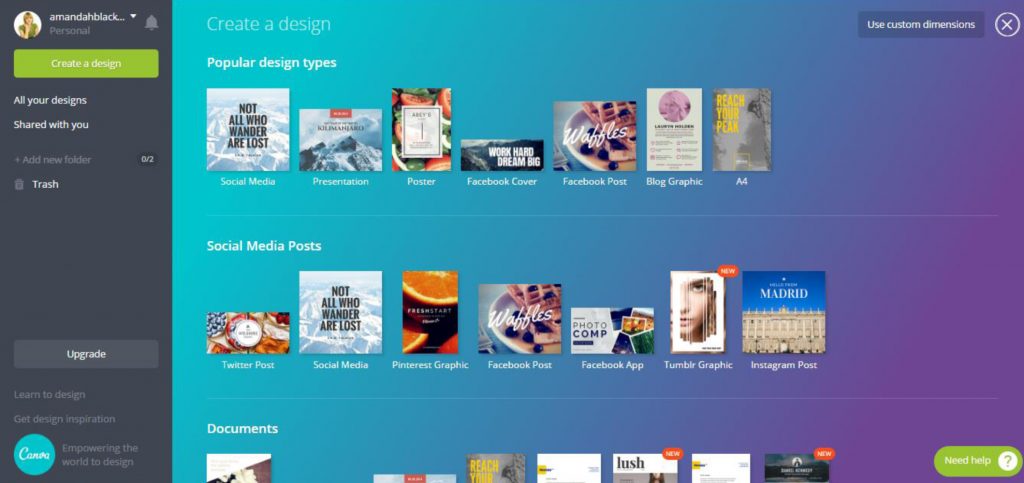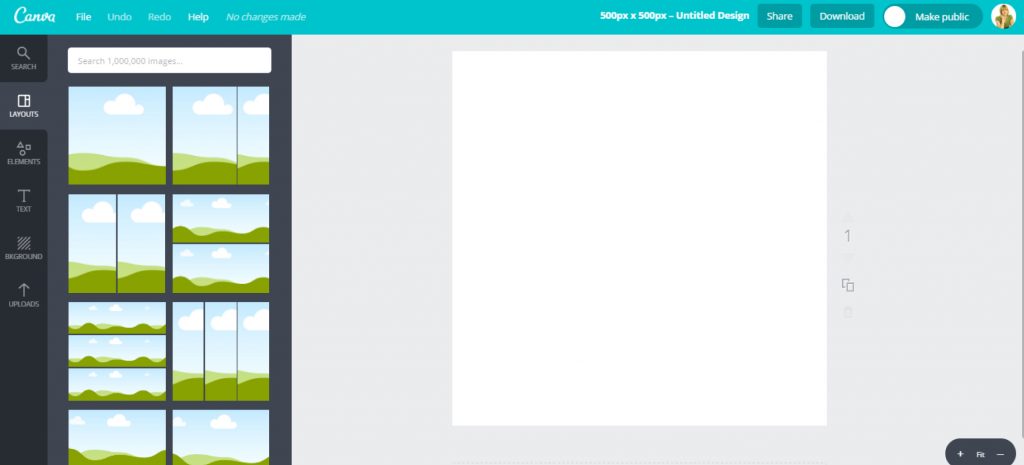 Review Tutorial Courses
If you don't have design experience or want your graphic designer to familiarize himself or herself with Canva, take advantage of tutorials. Not only can you learn the basics, but you can learn how to choose fonts that will make your design look amazing, but emphasize your message. You can also learn how to use color to convey moods. This is where color psychology comes into play. Knowing how to design a strong background is important because you want the elements in your design to stand out. You can learn all of this and more.
Upgrade to Canva for Work
For even more design flexibility, claim a 30 day free trial upgrade (cancel before it ends) to Canva for Work. The cost is $12.95 per month or $155.40 (USD) per year (this may be lower with a promotion). The benefit of upgrading to CFW is that you can easily create beautiful and powerful designs and documents for your business within an organized environment. Features include, set up your brand kit, organize your images into folders, resize designs, and more.
Are You Ready to Use Canva?
My life has become easier since I've started using Canva. It's no longer a struggle to design images for multiple social networks. Creating infographics and presentations is fun and easy. I appreciate the tutorials and premade templates and have enhanced my graphic design skills.
I enjoy using the design software so much that I created accounts for my local chamber of commerce (I manage their social media) and animal shelter (I'm a volunteer business consultant (former communications chair) and cat adoption counselor). These nonprofit organizations can use the design software and create awesome visuals for print and web.
Stop struggling to create graphics. Use Canva and easily make and share infographics, images, blog graphics, presentations, flyers, and more.
Want to see what I've created using Canva? Download a family travel guide.
LIKED THIS POST? GET UPDATES. IT'S FREE.