Content writing mistakes can cost your small business more time and money than you realize.
How?
By posting content that no one reads and shares. The time you spent writing the posts could have been spent on developing a current product so it reaches its full potential.
Let's face it; writing content for your small business blog is a daunting task when you have other things to do such as marketing and accounting (unless you hire someone to handle these).
But don't give up, yet.
Once you learn the mistakes to avoid, you can turn around your content strategy and connect with your target audience. You'll also see your sales, credibility and profits go up.
10 Content Writing Mistakes 
Continuing to write dull headlines
Read any tabloid, newspaper or edition of Cosmopolitan, and you'll notice eye-catching headlines. The writers know how to engage readers. They use power words such as:
Dead
Kill
Final
Now
Next
Don't Wait
Get
Get Fast Results
Missing
Explode
Profit
Urgent
The next time you write a headline step back and ask yourself, "Would I click on the link?" If you answer No, then go back and rewrite your headline. At one time Jon Morrow from Boost Blog Traffic wrote 100 headlines a day. Why? Because it's a great way to strengthen your headline writing skills.
Providing little or too much content
Back in the day, circa 2008, when I started Savvy-Writer, I wrote 500 word blog posts. Why? Because at the time this was considered to be the best word count. But times have changed. Google favors long, in depth posts of 1,000 words or more. But there's a catch. You need to write for your target audience. They may or may not like to read long posts. Test out different word counts and of course, ask your readers if they prefer shorter or longer posts.
Refusing to schedule posts
A content writing schedule is your friend. Write and schedule posts ahead of time so you won't freak out about posting. You can even accept guest blog posts (write guidelines) to fill in when you don't have time to write, i.e., a family emergency happens. This way your blog is kept up-to-date.
Choosing the wrong images
Images make a difference. Purchase stock photography or find other royalty free photos to use. Make sure you have the copyright to do so. Creative Commons does not give you a free pass to download and use images. You must read the license agreements. Better yet, contact the artist or photographer to make sure you can use their work. You may even want (or have to) give attribution. It's better to err on the side of caution.
Not breaking up content with bullets and subheads within content
Bullet points, block quotes and subheads make your content easier to read. Unless your target audience is made up of readers that expect and want to read large chunks of text, you'll want to add some dimension to your posts. Remember, people are busy and most of them scan blog posts. Some will bookmark or keep track of your posts in an email file or Evernote so they can go back and read them later.
Forgetting to research keywords (short and long tail)
Your posts still need keywords, preferably words and phrase your audience uses when they search. Open up Google and type in a phrase. For example, if you're a woman's attorney, you can type in the phrase "how to find a woman's divorce lawyer." As you can see from the screenshot below the search yields about 310,000,000 results. You can narrow your search down by location. For example, "Cleveland women's divorce lawyer." As you can see the search yields about 301,000 results. You can also use Google Planner to find keywords, short (weight loss) and long tail (how to speed up weight loss).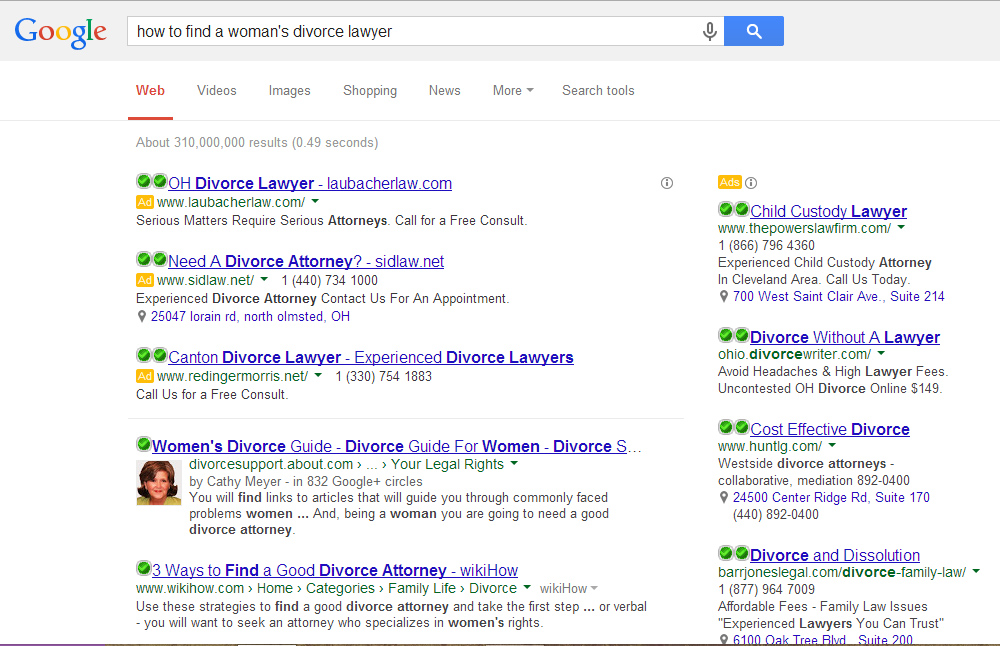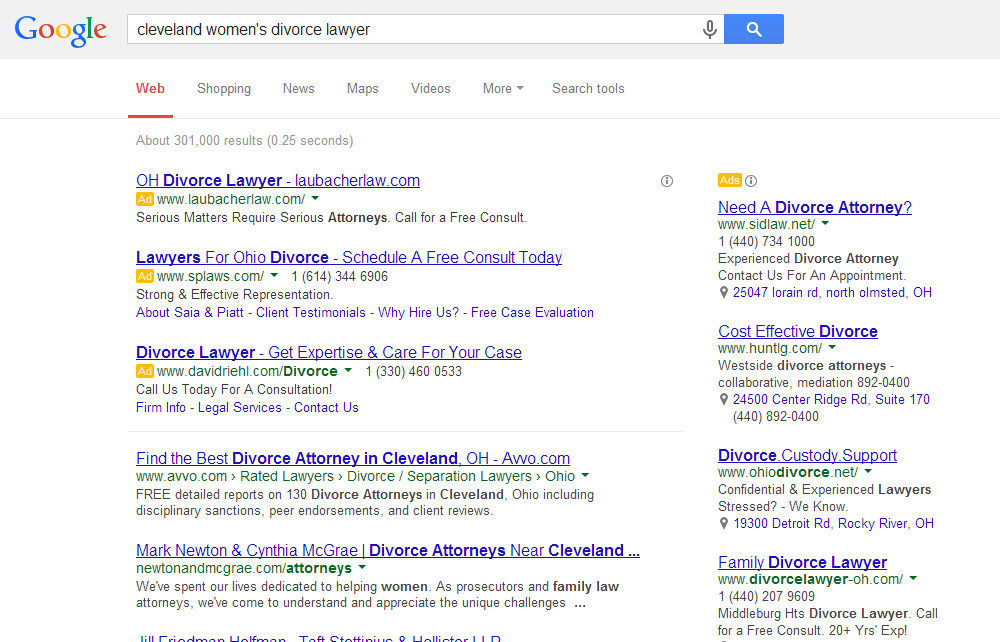 Linking to low quality sites
You want to link to high ranking, quality websites. How do you know if websites are quality? Here's how:
Check the web traffic.
Review page ranks.
Make sure the website is updated.
Look for comments and shares on posts.
Read About Pages.
Listen to your gut instinct.
Some websites aren't legit. The goal is to post a bunch of content in the hopes to receive a higher page rank. This is why Google is always changing the algorithms — to eliminate horrible and scammy websites.
Thinking that you don't need to edit and proofread
You need to edit and proofread your content or have someone else do it for you. While everyone makes tiny mistake, e.g., misspell words and space issues, you want to make sure your content is at least 99.99% error free. Don't forget that search engines could zing your website because your content may look like spam. If you don't like to edit and proofread, hire someone to do it for you. Your content will shine.
Posting content that your target audience doesn't want to read
Do you know what your target audience wants to read? Have you asked them? Did you read blog posts in your industry? How many comments do they receive? How many times are they shared? Before you start a business blog, research what readers need and want. For example, when you attend a networking event ask people, "What types of information do you read? Blogs? Case studies? Infographics? Newspapers? Magazines? What has helped you solve (fill in the blank)? Or hasn't anything you read helped you?" Gather as much data as possible and then design a content strategy around it. Give your audience what they want.
Giving up instead of fixing your content and strategy
Before you throw in the towel and delete your business blog, take a step back and assess your content strategy. When you started your small business, your plan may have worked but times have changed and perhaps so has your target audience. Review old blog posts to see which ones did the best in terms of comments and shares. Review new blog posts to see which ones did the best and worst. Survey readers and get to the root of why you're not connecting with your readers. Do this and your audience will come back and/or find you.
By fixing the above 10 content writing mistakes, you can have better copy on your blog or website in 20 minutes a day. Schedule a time to review your copy, maybe over the weekend when you have more time. You and your business can't afford to lose visitors; convert them into first-time and repeat clients and customers.
Over to you. Which content writing mistakes have you made? How did you fix them? Let me know in the comments.
If you liked this post, click here for free email updates!