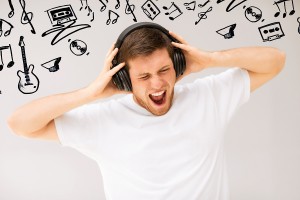 Blog content writing lessons and rock songs go hand-in-hand because both require that you write a story.
Listen to any rock song, especially a rock love ballad, and you'll hear a story of pain and heartbreak, something most people can relate to on a daily basis.
So who better to take inspiration from than rock songs from some of the world's famous and greatest artists?
Here are 10 songs from award-winning bands, singers and songwriters and lessons for blog content writers.
10 Blog Content Writing Lessons from Rock Songs
Song #1. Shot in the Dark by Ozzy Osbourne.
Lesson: Controversy works in blog content writing. Be a little controversial and your readers and competitors will notice. For example, rumor has it that Ozzy Osbourne and Phil Soussan, the bassist on The Ultimate Sin, entered into a legal battle over the song, Shot in the Dark (who actually wrote it?). It's been speculated that this is the reason why The Ultimate Sin was not reissued or remastered. Is this true? Who knows for sure? But if you want a copy of The Ultimate Sin, the only one that's available is the 1995 remasters version.
Song #2. Nothing Else Matters by Metallica
Lesson: In blog content writing, the only thing that matters is writing content that grabs a reader's attention, from the headline to the content. Don't write posts that already have been written on other blogs. Instead, study the posts and create a new angle. Or write a first-person post about how you overcame a problem. For example, if you have a small business, say a weight loss center, write a post detailing how you, the owner, lost 50 lbs. Show before and after pictures. Connect with your audience on an emotional level.
Song #3. Sounds of Silence by Simon and Garfunkel
Lesson: What's that? The blog on your small business website has no traffic or a trickle of traffic. Silence can be deadly. If you no one is reading your blog or your blog isn't generating leads, you could be writing the wrong types of content or writing for the wrong audience. Take a step back and assess your blog. Create a survey or poll and offer a free $10 gift card to the first 10 people that respond. Get to the root of why your blog is silent. Once you've figured it out, i.e., the wrong content is being posted, ask readers what they want and need. What problem do they have that only your business can solve? Find this out and your blog won't be silent anymore.
Song #4. You Really Got Me by The Kinks
Lesson: The blog content writing lesson here is to provide readers with amazing posts; you'll have them hook, line and sinker. They'll share and comment on your posts. They'll stick by your side and won't be able to sleep at night because they can't wait for your next blog post. They'll also subscribe to your newsletters and purchase your products and services.
Song #5. Sweet Emotion by Aerosmith
Lesson: Should your blog posts evoke a sweet or fiery emotion? It doesn't matter — just evoke an emotion. This can be done through writing about a painful experience or taking a controversial position you're taking with an industry practice. Be careful. If you talk about things that your readers don't care about, they won't read your blog.
Song #6. Go Your Own Way by Fleetwood Mac
Lesson: Are you following the crowd? Or do you go own your way? There's nothing wrong with learning from others, e.g., Boost Blog Traffic and Social Media Examiner. However, it's better for you to find the voice and tone of your blog. Make it your own. In fact, you could do what some businesses do and create a 'face' for the blog. This could be a fictional character/person, the founder, or even the CEO. For example, Progressive Corporation has Flo, and she does a great job selling their insurance. She's witty, spunky, and funny, yet informative and charming. Apply what Progressive has done to your blog and you'll be on your way to creating outstanding content.
Song #7. Dazed and Confused by Led Zeppelin
Lesson: Are your headlines and content leaving readers dazed and confused? Write clear, concise and precise headlines that grab a reader's attention. Look at Cosmopolitan's headlines, most copy and content writers do. Why? Because Cosmo headlines turn heads. Most importantly they sell magazines and get likes, shares and comments. Also, take the confusion out of content by writing simple and short sentences. And write good sentences. Most importantly, just write. You can go back and edit, later.
Song #8. Comfortably Numb by Pink Floyd
Lesson: Have you become complacent or numb to blog content writing? Or is your blogger for your small business running out of ideas for posts? Relax you just need some information how to get out of a blog rut. First, ideas are everywhere. For example, if you receive an email from a client/customer who loved your product, ask him/her if you can use their email as a basis for a blog post. It could be a 'How to Use Our Product Successfully' post. Or you (or your blogger) could write about a conversation you overhead or had with someone (get the person's permission). Read blogs, newspapers, magazines, case studies, white papers, books and eBooks. Listen to podcasts, webinars and teleseminars; do these and the numb feeling from blog writing will go away.
Song #9. Welcome To the Jungle by Guns N' Roses
Lesson: It's a jungle on the internet. Your content is competing for Google's attention on the internet. Plus, you need to share and market your content.  Throw in the Hummingbird algorithm and it's enough to make your scream. Yes, this is the price you pay and all you can do is take it day by day. The good news is there's enough room for everyone. Write for your audience and stop worrying about the overgrowth on the internet. Provide valuable content and you'll attract readers, clients and customers.
Song #10. The Waiting by Tom Petty
Lesson: Waiting for content to go viral is like watching a pot boil. And waiting for your blog to take-off is a waste of time. The truth is that it can take time to build a following and community. The illusion of becoming an overnight success is just that — an illusion. Even if you have a  blog for your small business, it's important to connect with bloggers. Why? Because they know and understand how to write for the web. They also have connections to other bloggers. They could recommend a blogger for your company, if you're interested.
Over to you. Got a rock song that teaches a blog content writing lesson? Share it in the comments below.
LIKED THIS POST? GET UPDATES. IT'S FREE.