I let you in on a little secret. Rules and I sometimes don't get along, especially when it comes to writing great content.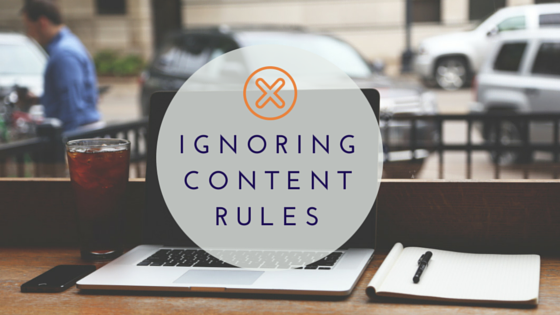 As a kid, and even to this day, I was considered a rebel. I always asked and still do ask, "Why?" This, by the way, drove my teachers (I spent 9 years in Catholic school where you weren't supposed to question authority.) and parents nuts. Whenever I questioned something, I would receive a couple of answers: 1) Because I said so; 2) Because that's just the way it is; and 3) Because I'm your mother (or father).
I never understood the point of having strict rules. Why? Because they put you in a box. Who wants to be put in a box?
Now I'm not saying that we should abandon our morals and values, however, I believe some rules need to be reexamined.
For example, when I was in college, a popular buzzword phrase was, "Think outside of the box." I was surrounded by people who used that phrase over and over again and became conditioned to use it. Luckily, I'm wiser now and believe you could toss out the box and think of creative ideas and ways to solve a problem.
What does all of this have to do with creating great content?
Everything.
I'm guilty of writing posts that have "rules" in them. But like I mentioned earlier, I'm wiser.
Creating great content shouldn't require strict rules, like Thou Shall Not End Sentences with a Prepositional Phrase. Get over it. Most best-selling authors end sentences with prepositional phrases.
You want to be easy with your writing. For example, try getting out of your head and into your body.
Let me explain.
If you're in your head, you may over think your content writing. You may analyze every word and sentence and never finish a blog post or article. Furthermore, you may force the words and write a piece of content that isn't your best work.
Instead of scrutinizing over your writing, just write. Let it flow or let it go as Elsa from Frozen would sing. Once you remove the shackles from your writing, you'll be surprised how much better it gets.
Why You May Want to Ignore Content Rules
To create great content, you may want to ignore content rules such as:
Write more than 500 words.*
Write and post three or more times per week.
Write only what you know or are passionate about.
Use bullets and headers.
I know what some of you must be thinking… How could I possibly write content without bullets or headers? Guess what? There are some popular blogs and bloggers who do just that.
If you head over to Steve Pavlina.com, you'll see that he doesn't always use bullets and headers. In fact, they're rare. He does, however, write list posts that do well. Keep in mind that Steve has a strong following. People keep coming back to his website over and over again because of the content he provides. It's real, raw, and relatable.
When it comes to breaking content rules, I'm not suggesting you should ignore grammar and punctuation. But you may want to stop obsessing about word count.* For example, if you have a piece of content inside of you that can make an impact at 700 words, write it. If it turns out that it's 1,500 words write it. Don't get hung up with word count.
I have clients who require 500-700 word blog posts. Guess what? Their web traffic is fine. Why? Because they have valuable content. Their visitors don't care that blog posts aren't 2,500 words. What they care about is how a piece of content can solve a problem and help improve their lives, businesses, relationships, health, etc.
Here's a secret…
Following content rules isn't a 100 percent guarantee that your content will be shared on social media or via email.
Jacqueline Laurita, a mom of an autistic son, wrote a letter to someone who posted a nasty Facebook comment on an autism page. Not only did the letter go viral, but the Jacqueline was a guest on Dr. Oz's May 7th show.
Following content rules to a "T" may not get you the results you want or expected for your business. What does work is writing content that packs a punch.
Content Rules are Made to be Twisted and Broken
If you're obsessed with following content rules (I know I was), you may drive yourself crazy!
For those of you who are starting a website and blog for your business, you may want to "test" the waters and ignore content rules.
Try writing in different styles, tones, and voices (your ego may tell you not do this). Y
You may also consider surveying your target audience to find out what they want and need. Remember, they're the ones who'll read and share your content.
If you've had a blog or website for a long time and haven't received the results you wanted, analyze your content. See which pieces did well in terms of comments and shares. Notice which topics got the most traffic. Also, review at style, tone, and voice and compare posts that did and did not perform.
Once you have your data, adjust your content accordingly.
Don't be afraid to break and bend content writing rules. There isn't a Book of Content Writing Rules, like the Bible, that you must follow religiously. Be bold and break out of content rut by doing your own thing. Listening to others may or may not hold you back. You're the only captain and master of your content.
Over to you. Have you broken any content rules? Why? Why not? What were the results? Share in the comments.