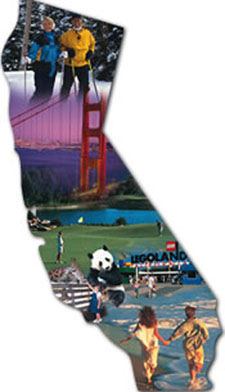 I recently drove to Northern California; the East Bay and South Bay areas of San Francisco. Don't ask me why I chose to drive 12 hours instead of boarding a plane. It was a grueling drive because I was the only driver. I think I'm done with road trips for some time. I did contribute to the economy by spending most of my money on gas!
What surprised me about my visit to Northern California is the lack of travel and tourism promotion. I stayed at an independent hotel and they had no travel information. I looked around the lobby and front desk, but couldn't find any. I thought this was odd since it was not a BIG hotel chain. They did offer free WiFi and provided a computer and printer in the lobby for guests. Still, it would have been nice to have some travel brochures that provided me with information about the area.
Small businesses within the travel and tourism industry can benefit from advertising and promotion. If you own a bed and breakfast, independent hotel, spa and salon, or restaurant, make sure to have promotional material readily available for guests. It's a good idea to have a couple of travel brochures about the area as well.
If you want travelers to spend money in your community, you've got to help them out. Some travelers like to "fly by the seat of their pants" (I sometimes do) and don't plan every little detail when they travel. How will they know what historic sites to visit? Where will they dine and shop? How can they improve your area's economic situation if they don't know what to do or where to go? This translates to lost dollars for your community.
Of course, I was in the area known as Silicon Valley. Maybe the area doesn't need any improvement to its bottom line because the techie companies are "pumping cash" into the local economy.
Travel and tourism promotion along with great customer service can improve the bottom line of a small business. Promoting your business will ensure that travelers come back to your establishment. Have plenty of brochures at the front desk or in the lobby. When it's time to check out, travelers can take a brochure with them. Remember, word-of-mouth is still a viable means of advertising.
Savvy Writer Rebecca
How do you promote your business to travelers?