On Friday, May 3, 2013, I listened to Dan Zarrella speak about the science behind Twitter. I learned some great Twitter tips and tricks.
I also participated in the Twitter chat too.
Drats! I didn't win a copy of Dan's book Dan's book, The Science of Marketing: When to Tweet, What to Post, How to Blog, and Other Proven Strategies
.
Dan's book "takes a scientific approach to the way businesses and brands approach marketing. Through a combination of marketing, statistical, and psychological research to explain why and, more importantly, how, companies should adapt marketing strategies such as blogging, social media, email marketing, and webinars to achieve maximum results."
If you're looking for, or even using a rainbows and sunshine approach to Twitter, you may want to reconsider this approach.
There's nothing wrong with appreciating your followers, but there is a science behind Twitter.
Three Easy Twitter Tips and Tricks Make You a Better Twitter User
Below are the top Twitter tips and tricks I learned from listening to Dan's #SciChat.
You may have heard of one or more of them, or not, but they're great tips to keep in mind as you tweet.
Write tweets that are less than 140 characters. Write HEADLINES that get clicked! CLICK HERE to tweet.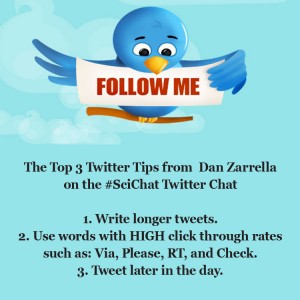 Posting on Twitter is Both an Art and a Science
There's an art and science to Twitter.
For example, if you think that your tweets will automatically be retweeted, you're wrong. You need to establish yourself as an authority in your field. Show how you can solve your target market's problem.
Don't clutter your followers' Twitter streams with useless information. Tweet relevant information.
Do find your voice and post tweets — be authentic.
Don't rely heavily on automation. Schedule tweets when you travel, but post tweets in 'real time' the majority of the time.
If you found this post useful, I'd appreciate it if you'd share it via email, Twitter, Facebook, Pinterest, LinkedIn, and Google+. Thank you!
What Twitter tips and tricks would add? Leave a comment below.