As someone who loves to travel and has taken many road trips, I know the importance of having a road map. After all, if you don't know where you are going, how will you get there? It's the same with online marketing. If you don't have a content marketing plan, how will you attract your target audience and convert them?
One of the most effective ways to communicate with your customers, prospects, site visitors, clients, and followers is through content marketing. However, you need a plan and strategy to ensure your digital marketing success.
Keep reading to learn the five easy steps for creating a content marketing plan. It's not as difficult as you may think, and the following infographic will prove it.
5 Simple Steps to Creating a Small Business Content Marketing Plan
Before you faint from the idea of having to create a content marketing plan for your small business, keep in mind that your content plan and strategy doesn't have to be elaborate. In fact, it's best to keep it simple.
Here are the five steps for creating a content marketing plan for your small business.
Share this small business content marketing plan infographic!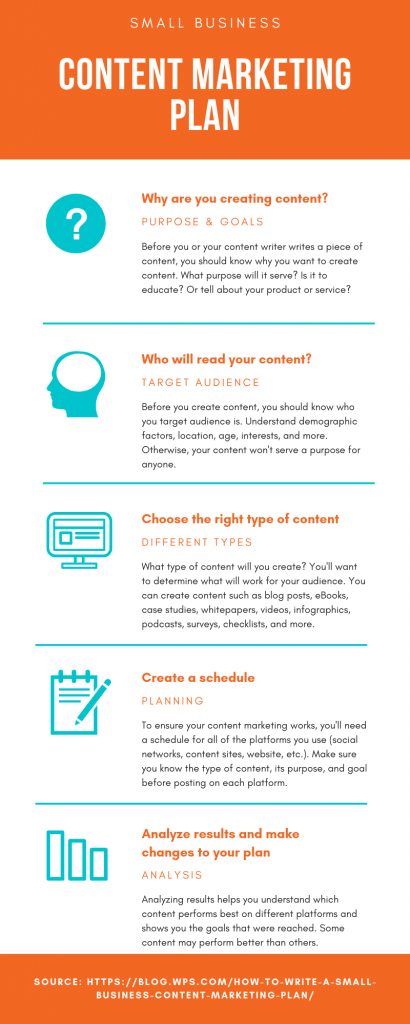 Why are You Creating Content?
Before you or your SEO content writer writes a piece of content, you should know why you want to create it in the first place. Ask yourself the following questions:
What purpose will it serve?
How will it be used?
It's important to know why you want to create content before doing so. Otherwise, you'll be wasting your time.
Who Will Read Your Content?
Do you know you will read your content? You need to know this before creating content for your small business. It's essential to understand demographic factors, location, interests, and more. Otherwise, your content won't serve a purpose for anyone.
Choose the Right Type of Content
What types of content will you create? You'll want to determine what will work for your audience. You can create content such as:
Blog posts
eBooks
Case studies
Whitepapers
Videos
Infographics
Podcasts
Surveys
Checklists
Press releases
Presentations
Guides
And more!
Create a Schedule
To ensure your content marketing works, you'll need a schedule for all of the platforms you use (social networks, content sites, your optimized* website, etc.). Make sure you know the type of content, its purpose, and the goal before posting on each platform.
Analyze Results and Make Changes to Your Plan
Analyzing results helps you understand which content performs best on different platforms and shows you the goals that were reached. Some content may perform better than others.
Are You Ready to Create a Content Plan for Your Small Business?
If you want your content marketing plan to work, you must treat it seriously, not something that you do once in a while. After all, digital marketing isn't going anywhere, and you'll want to stay ahead of your competitors. A content plan and strategy can help you do this.
Keep in mind that it's good to publish different content types and styles of presenting information so that you can analyze the results to see which content receives more engagement and converts better.
Once you determine the types of content that work best for your small business or brand, you will see how content marketing is an effective channel and why it's used by many today.
Source: Blog.wps.com
*Contains an affiliate link.
Liked this post? Click here and sign up for the Savvy-Writer newsletter.