This is a guest post on Savvy-Writer about Instagram marketing from Techwyse.
Are you an entrepreneur? If yes, please tell me, don't you hate how many famous brands suck up all the space of page one results on Google?
Sincerely — like ALL of them. If not impossible, these are hard to outrank.
If you aim to introduce your brand to people quickly but don't want to rely entirely on SEO strategies, then your next best move is to concentrate on social media.
Instagram is the sweetheart of social media; people love Instagram. So do entrepreneurs and business owners. And it's not hard to see why.
Instagram changed the game since May 2016. With 1 billion monthly active users, Instagram has evolved from a simple photo-sharing application to a fully focused on marketing channel.
Yes, it has its downfalls.
The rules are different than Facebook.
Instagram is not a platform to post links to your website.
And it sure as hell it's not a platform to sell your products. 
It is the place to share the power of your image.
Why Instagram Marketing is Important?
Instagram is a highly visual centered platform. So, while using Instagram as a marketing medium for your eCommerce store, you can mainly concentrate on:
Instagram can build your brand awareness rapidly if you know how to use it. People who chose to follow your page will definitely go through your eCommerce store. This, in turn, boost your brand reach.
This is the best platform to build customer engagement and loyalty. More number of Instagram followers means more traffic to your website. Using the email addresses of your followers, you can build a large base.
Instagram is all about visually pleasing images and videos. You can take this as an advantage to showcase and sell products. The main aim will be to use Instagram as an extension for your eCommerce store.
Basic for Instagram Marketing
Before you start these steps make sure you have optimized your profile. It doesn't matter how many tips and tricks you play in your Instagram marketing game; if the profile is not optimized correctly, you will lose half of the followers to your account.
Now that you have optimized your account, we can move on to the next steps:
Image
Instagram is all about unique and creative visuals. So when you post product images, you'll want to make sure you style them in a visually attractive way.
Here are a few tips for better photos:
Choose a theme. An Instagram theme is how your Instagram feed presents your brand overall. It is your visual personality.
Here is some inspiration for you: (@fursty)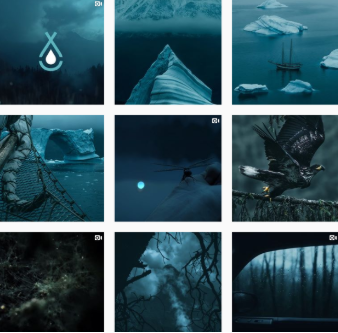 Colour coordinate. Pick up 2 – 3 primary colours you know you will always use in your photos and mix and match them
Here are some ideas for you: (@Xuzzi)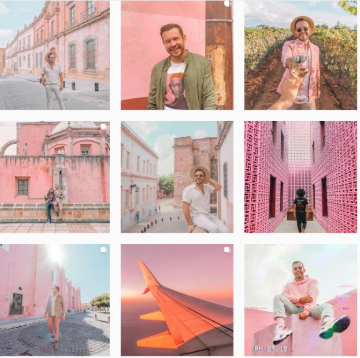 Always check the background of your photos. Don't let the background distract your audience from the main subject unless the background is part of your marketing strategy to get the attention of people.
Here is a good example for you: (@anniset)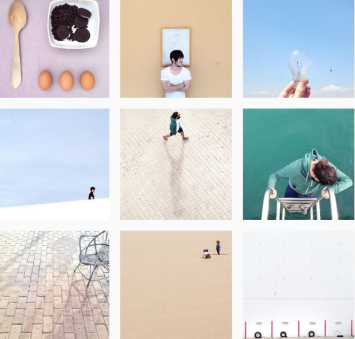 Natural light is your best buddy. Proper good lighting will get you detailed, high-quality photos.

A high-quality photo looks bright and inviting. It makes anyone want to double-tap and tempt them to look at the rest of your Instagram feed. Just like

@Adobe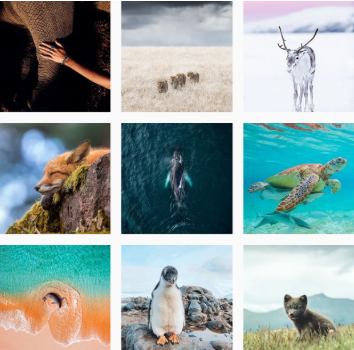 Hashtags
There are 6 key types of hashtags that are essential for eCommerce businesses to include in their Instagram marketing strategy.
Branded hashtags: Every brand has a unique branded hashtag, and it's important to have one too. Branded hashtags can be attached to each post, place it in your profile, and inspire users to add it to any posts in which they're sharing.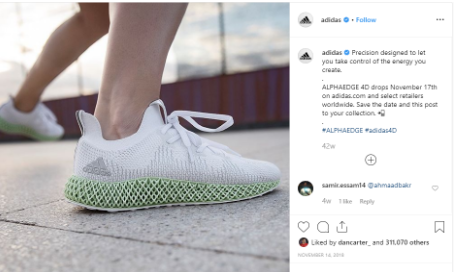 Contest hashtags: Contest hashtags are a type of branded hashtag made for a specific contest. You can also combine branded hashtags with general contest hashtags like #giveaway and #freebies.
General appeal hashtags: Some specific hashtags are popular among large audiences. And using these hashtags can help you get a significant reach on your posts. Examples include #puppylove and #lovemyjob.
Niche-specific hashtags: Every industry will have keywords and phrases that are related to their target audience. Example #mockingjay (if you're marketing jewelry inspired by the Hunger Games series).
Timely hashtags: Seasonal holidays and current events can make excellent hashtags, particularly when you focused on selling your products on holidays like Christmas or Valentine's Day.
Entertaining hashtags: They won't help you with reaching a mass audience, but they will help you to entertain your audience and help you build your brand.
Hashtag best practises:
List your branded hashtag on your profile.
Switch up your hashtags. Don't use the same hashtags on every post.
Discover new hashtags to target.
Use a large number of hashtags and remember not to overdo it.
Engagement
Post content shared by users: Post pics of your customers showing off your products. User-generated content leads to a positive viewpoint and gives people a taste of how your products look when they use it. 

Run a contest and give away exclusive coupons:

41% of Instagrammers

follow a brand purely for coupon codes and giveaways. Further, an Iconosquare study found that 70% of Instagram users had entered a photo contest or competition at some point.

Share moments from events: Your stories are also a great place to cover and promote events, whether they're a few weeks away, happening right now, or from the past. 

Be authentic: It's a great place to showcase your fun side. Use images and videos to tell your brand's story, throwing in some behind-the-scenes content when possible.

Go live:

Instagram stories

let you broadcast live, and your followers can engage in real-time. You can talk about a specific topic, host Q&As, or interview a featured guest or influencer.
Ads
There are many options when planning an Instagram ad campaign. But make sure from the start you know exactly what you want and what your target is.
Stories ads: They are full-screen ads that arise between users' Stories. Story ads will expire after 24 hours; they're an excellent way of sharing promotions and limited-time offers.
Photo ads: Photo ads allow brands to showcase services and products through compelling images.
Video ads: Instagram users love video. Marketers can showcase their products with video ads.
Carousel ads: Carousel ads let users swipe through a group of images or videos with a call-to-action button to connect them directly to your website.
Collection ads: When users see an advertisement from your brand, they'll have the option to purchase products directly from the ad. They combine all in one powerful advertisement like – photos, videos, and direct-response marketing.
To Sum Up:
60% of users discover new products on Instagram. People on this platform influenced by brands and businesses that are trying to market their services or products. It's time to be active on Instagram business account and start your marketing game. The platform is consistently making improvements, so businesses and individuals can get more out of it. 
Those were great basic tips and way too many words – yet to make Instagram work better for your brand! And additionally, you can use these tools to boost your presence on Instagram. Now, it's in your hands to put them into use.
Have you used Instagram for marketing your business? What other mystery Instagram tips do you have to share? Feel free to share it with us!
Liked this post? Click here and sign up for the Savvy-Writer newsletter.
About Keerthana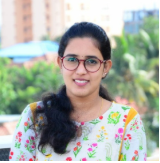 Keerthana is a social media Analyst at Techwyse. She is passionate about finding new trends in technology and making them into blogs. When she is not working for the clients, you can find her listening to her favourite music tracks.