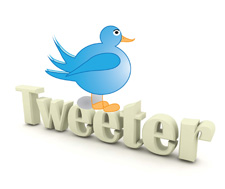 Twitter can help drive traffic to your website. This social media platform has taken the world by storm. If you're not taking advantage of social media, what are you waiting for?
Twitter is FREE and easy to use. You can set-up an account in no time and connect with new and current customers.
Social media platforms such as Twitter can help small business owners grow their business. Spending a small amount of time using Twitter each day can increase your business prospects. How do you get Twitter? All you do is "Google" Twitter and sign up. It's that easy.
Twitter Tips & Tricks
User name can be 15 characters. Twitter will let you know if a username is available. If the one you want is not available you'll have to think of another username;
Choose a design that correlates with your website. If you can, choose a design that coordinates with your website, i.e., colors and design;
Tweets are 140 characters. What makes Twitter popular is the fact that you can only TWEET 140 characters. Keep it short and get to the point. Not only TWEET about your business, but give "brief" tips.
Reasons to use Twitter
Twitter is free to sign up. Your business can soar to new heights by TWEETING each day;
Fast and easy to use. It doesn't take a "users manual" to set-up a Twitter account. What takes a bit of time is tailoring your Twitter page;
Limited to 140 characters. If you have a tendency to be long-winded, you may find Twitter a bit of a challenge;
TwitPic complements Twitter. This is free as well. If you have a Twitter account you can use TwitPic to upload pictures. This is great if you have an interior design or graphic design business;
Network with other people. You can meet people within your industry, gain new customers, and keep current customers up-to-date;
Drive traffic to your website. Social media such as Twitter is a great tool to drive traffic to your website.
Twitter has taken over the world! Everyone who is anyone has a Twitter account. You can TWEET all day by using "Twitter Tools" such as TweetDeck. You can keep this handy little tool open and submit your TWEETS throughout the day. Just don't over do it!
If you don't have a Twitter account, sign up today! It's a great social media tool for small businesses. You can follow other businesses and they can follow you. It's a great way to connect to people and to the community in which you live.
~ Savvy Writer Rebecca ~
How could Twitter enhance your small business?