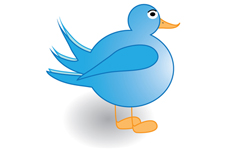 Small business owners who don't want to spend a lot of time on social media sites such as Twitter, may be interested in purchasing Tweet Adder. It's not the cheapest software on the market, but it could help you grow your business.
Getting web traffic to your website can be a daunting task if you don't have a staff to help you out. Tweet Adder can help you gain 'targeted' Twitter followers and automate your Twitter posts.
Twitter has exploded and is not going away anytime soon. Oprah, CNN, and major celebrities 'Tweet' each day. If you're a small business owner that would like to enter the social media market, Tweet Adder can assist you with your Twitter account.
Features of Tweet Adder
Find like-minded Twitter followers.
Increase Twitter traffic to your website to gain customers and increase profits.
Set and forget it because Tweet Adder runs daily.
Automate your scheduled direct messages.
Set-up multiple accounts and create unlimited Twitter profiles.
If you're apprehensive about spending the money on Tweet Adder, try it before you buy it. Tweet Adder offers a 'free demo' that can be used on Mac OsX or Windows. Get to know the program and see if it's for you and your small business.
The minimum to amount of hours to spend on social media is approximately 40 hours. Tweet Adder can free up some of the 40 hours. If you go on vacation you don't have to worry about 'Tweeting' on your vacation. Your Twitter account will be updated daily!
Let's face it, small business owners are focused on growing their business by getting in front of people NOT sitting in front of the computer. This is why they'll outsource work to freelancers such as freelancer writers or SEO experts.
Small business owners who want to gain new customers via social media, consider purchasing Tweet Adder or at least download the demo version. Test the software and monitor your web traffic and sales. How did web traffic increase? How many new customers did you receive? What happened to your 'bottom line'? Did it increase or decrease? Do some analysis so you can see how much value Tweet Adder added to your small business. If there's a lot of value, purchase Tweet Adder. If not, find another software that will work for your business.
Savvy Writer Rebecca
How many Twitter applications do you use?