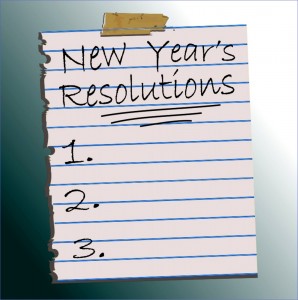 It's that time of year — New Year's Eve!
You may be thinking about losing weight, giving up a nasty habit or cleaning out your closets. But have you thought about your small business blog?
I'm taking a look at your blogging world with a list of New Year's blogging resolutions I'd like to see you keep, from keyword stuffing (major faux pas) to posting sporadically.
7 Blogging Resolutions for 2014
1. No more keyword stuffing.
If you're still keyword stuffing blog posts, stop right now. Keyword stuffing is so 2008 and will get you penalized by search engines like Google. Select one or two keywords and work them into your post, but do not focus on them. The focus should be on writing and providing the best content possible for your audience. Remember that blogging is about giving readers valuable content that solves a problem or is entertaining.
2. Create a blog schedule.
If you've been posting sporadically since you started your blog, it's time to embrace a blog schedule. Even I have to work on this. For example, I've been sick since Saturday, December 21 and didn't have a post lined up for Thursday, December 26. Of course, I can say that I was sick and it was the holiday week. But if I would have wrote ahead, my readers would have had a new post to read last Thursday. Create a blog schedule that works for you and readers and stick with it. Review it every few months and make adjustments where necessary.
3. Write more in-depth posts.
Google now loves in-depth posts. This means posts of at least 1,000 words or more. The caveat is to write for your audience, but it's good to shake things up here and there. Write an in-depth post and ask readers for feedback. Maybe they'll like it. Maybe they won't. But you won't know until you write a longer post and gauge the reaction.
4. Post more videos.
It's a fact that videos do well on social media and blogs. Why not start a video series? For example, if you're a certified personal trainer, you could post a short workout video every Wednesday. You could call it Wednesday's Workout or something like that. Ask readers for feedback by commenting on your videos and letting you know how they videos helped them to lose weight. Any small business owner can create a video series. It just takes a little planning and preparation.
5. Select better images.
Sometimes, you may have to pay for better images. There's nothing wrong with using images from Creative Commons (watch those license agreements); however, you may find better images on stock photography websites such as iStock, Big Stock Photography, Dreamstime and others.
6. Give your opinion.
Your readers want to hear from you so give your opinion on your industry. For example, if you're a dentist, you may disagree that patients need to use fluoride toothpaste. Write about it. Don't be afraid to take a stand against an industry practice. Provide readers with facts and studies and allow them to draw their own conclusions as well.
7. Work on headlines.
Headlines matter! For example, look at Cosmopolitan Magazine. It's not a secret that many writers look to Cosmo's headlines for inspiration for their headlines. Why? Because the headline writers at Cosmo understand what buttons to push — they understand what makes a reader pick up a magazine or click on a link. So… In 2014, clean up your headlines, make them stronger and watch as readers click and share your blog posts.
If you enjoyed this post, click here for free email updates!