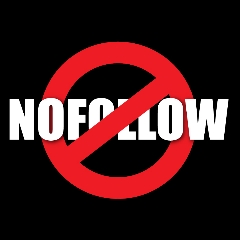 Many people comment on blogs for different reasons. Readers comment to gain backlinks, others like to "spread spam" around the internet (spam is deleted), and some want to connect with the blogger and readers of the blog. Whatever your reason is for commenting, you have the option of leaving your website URL. Unfortunately, you may be asked not to enter your URL.
When you leave a comment, you have the option of entering your website's URL on the comment form. It's a great way of saying "thank you" to visitors who take the time to read your blog. If this is true, why would a blog administrator email a reader and ask her to "kindly stop leaving your business website URL on the blog posts? It's very perplexing. Aren't business owners allowed to comment on blogs? Perhaps the blog is following the "No Follow" rule.
No Follow: "nofollow is an HTML attribute value used to instruct some search engines that a hyperlink should not influence the link target's ranking in the search engine's index. It is intended to reduce the effectiveness of certain types of search engine spam, thereby improving the quality of search engine results and preventing spamdexing from occurring" (from Wikipedia)
Some websites use the "no follow" rule which is fine. However, when you use a comment form box that includes a space your website URL, the rule becomes confusing. It makes more sense to take out the website URL from the comment form to ensure visitors do not enter their website URL.
One reason to eliminate the "website" URL option is you're afraid of competition which is why you choose to use "no follow." You can say it has to do with page ranking, but what's the real reason? Maybe you've built it up in your mind that visitors will not stop by your website if you allow readers to leave their website URL. You don't want visitors to leave a link to their website because you're afraid they may not come back to your website. This is hogwash. There's opportunity for everyone on the internet. How many times have you visited a blog/website that didn't fit your needs? What did you do? You probably looked at other websites!
The next time you post a comment and leave your website URL, you may receive an email asking you not to do that. FYI to owners of blogs/websites who request readers not to leave their website URL: take out the option to leave a website URL!
Rebecca
What are your thoughts on the No Follow rule?