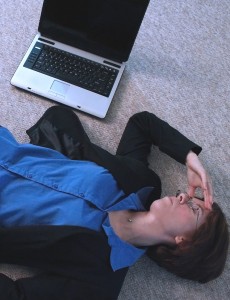 Some people love DIY projects. From putting in a new floor to painting the entire the house, these folks persevere no matter what. That's great but what about when it comes to DIY websites and templates. These can be websites or templates that are already created but require a few tweaks here and there (think WordPress templates). What happens when you're not thrilled with the color the schemes? How do you change them? What about font and line spacing? There's nothing worse than small font that you can't read!
Web design can leave freelance writers feeling lightheaded. It's overwhelming if you don't know what you're doing. Perhaps you don't know what "HTML h1 to h6 tag" are. What about CSS style sheets? The thought of this language may leave you feeling defeated.
Freelance writers who understand HTML could "tweak" templates without any problem. But they may not be exactly what you want, especially color schemes. Sometimes you can't upload a custom logo because you don't understand how to do it. This can be frustrating.
Where to find templates
If you're lucky, you'll find a template that was created by a web designer who was thoughtful to include "instructions or "Read Me" text. Sometimes designers will include their email address and website. You'll be able to contact them if you have any problems.
If you're thinking about creating a web design from scratch, make sure you know what you're getting into before you proceed. Hiring a web designer may be more ideal for you if the thought of web coding makes you swoon. There are many web design tutorials on the internet. If you feel up to it, design or redesign your website. Good luck!
Rebecca
Who designed your website? Share.