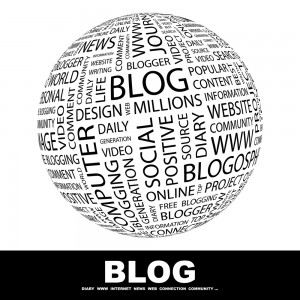 If the sales team hadn't written the blog posts, it would have been a profitable year.
Why?
Because web traffic would have exploded and this would have led to a boost in leads, prospects, and sales.
Does that sound like your business?
Unfortunately, if your sales team didn't read tips on blog writing, there's no way they could have known how to write blog posts.
Then again, do you want your sales team writing blog posts? I don't think so.
Writing your own blog, especially a blog for your business, takes time, dedication, and know-how.
For example, years ago blog style writing was about 300-500 words. Today long-form blog copy, in-depth content, if you will, is becoming the norm. Yes, the blog post has transformed throughout the years.  And most of the top bloggers in the world have a staff of writers and guest bloggers producing content of over 1,000 words.
Don't panic!
You may not have to write content that is 1,000 or more words. It depends on your target audience and if you want to rank in Google for in-depth content.
Famous Blog Writers Do It
Writing your own blog posts means hours of research, writing and editing.
Don't believe me?
I'm a member of Jon Morrow's GuestBlogging course and know for fact that Jon spends more than seven hours on a post.
Why?
Because it's important to write a blog post that adds value to your target audience; it solves their problem.
There's no point writing and posting blogs three or more times a week if they're 'fluff' pieces. Why? Because they'll just sit on your blog and collect dust.
You want to write compelling posts on your blog. For example, if you have a health and wellness business, it's important to give your readers posts that will help them with whatever issue they have. Your clients/customers look to you, the expert, for advice. Don't disappoint them with a 500 word post on nothing.
I Want to Write Blog!
Hold on!
Stop right there.
Writing your own blog means you understand that you must research, interview experts (sometimes), write, and edit your blog posts.
You'll also have to conduct keyword research.
If you're blog is new, you might want to avoid keywords and long-tail keywords that have high competition. Focus on low to medium competitive keywords and phrases.
Now, do you have time do research, write, interview, and edit?
If you have the time to do this, then by all means jump right into blogging for your business.
If you don't have the time, you might want to hire a content writer to write your blog posts.
However, in the meantime, check out the tips on blog writing for your business below. You can apply these tips to your company's blog TODAY!
7 Simple Tips on Blog Writing for Your Business
1. Use WordPress.org.
According to infographic from Yellow Bridge Interactive "Most Popular Content Management Systems And Widgets Of 2013 [INFOGRAPHIC]," 50.07% use WordPress.org as their content management system. Only 6.44% use Joomla. This is no surprise. Why? Because WordPress is easy to use whereas Joomla takes much IT and technical experience. Sure, you'll want to know a little HTML if you want to tweak your WordPress website, or you can hire a web designer.
2. Spend time researching keywords.
When I say spend time researching keywords, I mean spend a couple of hours researching keywords. For example, if your business has a new blog, check out your competitors. What keywords do they use? What keywords do they rank for in Google? Study keywords and phrases, choose a handful, and test them on your blog. Use Google Analytics, HitsLink, and other tools that will analyze your blog and web content. Search engine optimization (SEO) is still important. However, you want to use your keywords. Do not stuff them into a blog post. Google won't like it and neither will your readers.
3. Write for your target audience. Solve their problem!
Who is your target audience? Do you even know? If you said "No," then STOP right now! You must know who your target audience is if you're going to write a blog for them. There's no point in writing blog posts if you don't know who you're writing them for. Here are some tips on how to find your target audience:
What is your product?
What is your service?
Why are you in business?
What problem are you solving?
You can use tools such as polls and surveys to find out who your target audience if you're still not sure. Also, consider hiring a business coach and/or mentor. Once you know who your target audience is you can write blogs posts for them.
4. Do copy your competitors.
Copy your competitors, to a certain degree. You can't plagiarize their blog posts and other content. But you can copy their blog layout. Study it. For example:
Do they use photos in their blog posts?
What about screenshots?
How about videos?
How many words are blog posts?
How many subheadlines are used?
You get the picture. Tweak the layout of your blog post until you feel/believe it will work for your audience.
You can't copy your competitor's website and have your website look exactly like their site. But you can steal elements from their website such as:
Placement of CTAs (Call-to-actions).
Buttons.
Snappy 'original' copy writing.
You don't have to reinvent the wheel. You just have to fine tune it to work for your business.
5. Create a blog schedule.
Most bloggers create and stick to a blog schedule. Why? Because it's a simple and easy way to build a blog. In fact, most bloggers use a blog editorial calendar. After all, if magazines plan their publications months in advance, you can do the same thing. However, make sure you take into consideration changes that may happen within your industry during the year. You'll want to capture those changes within a blog post or two.
6. Don't think, just write.
You may not be the writer in your business and that's okay. Just make sure your partner(s) like to and can write. The best way to write a blog is to just write it. Don't think about grammar and punctuation because you can go back and edit your blog post and correct mistakes. Or you can have someone else proof and edit your post. The bottom line is that the best way to write a blog post is to just write it.
7. Write your headline last.
You've probably heard or read that headlines are important. However, it's best to write your headline last. Why? Because your original angle for your blog post may go in a different direction as you type. This is okay. Save your original idea and revisit it later. You may decide to toss it out. Don't worry. You can find plenty of ideas for blog posts from your daily conversations, other blog posts, news, magazines, etc. Just remember to write your headline last.
Final Thoughts on Blog Writing
Blog writing has evolved throughout the years. When I first started in 2008, I was advised to write a blog post between 300-500 words, three to five times per week. Today, blog posts have morphed into 1,200 or more words. Some bloggers post once to three times per month (even me). The 'blog' will evolve throughout the years, especially since Google Glasses are on the horizon.
The above tips on blog writing for your business are a guide for your business. If your business doesn't have a blog, you may want to rethink your strategy of not having a blog. If your business' website has a blog, use the above tips on blog writing and enhance your blog.
Go forth and blog for your business!
Over to you. What blog writing tips do you have for businesses? Share them in the comments below.
CLICK HERE for free email updates!