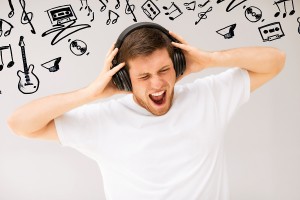 Blog content writing lessons and rock songs go hand-in-hand because both require that you write a story.
Listen to any rock song, especially a rock love ballad, and you'll hear a story of pain and heartbreak, something most people can relate to on a daily basis.
So who better to take inspiration from than rock songs from some of the world's famous and greatest artists?
Here are 10 songs from award-winning bands, singers and songwriters and lessons for blog content writers.
10 Blog Content Writing Lessons from Rock Songs
Song #1. Shot in the Dark by Ozzy Osbourne.
Lesson: Controversy works in blog content writing. Be a little controversial and your readers and competitors will notice. For example, rumor has it that Ozzy Osbourne and Phil Soussan, the bassist on The Ultimate Sin, entered into a legal battle over the song, Shot in the Dark (who actually wrote it?). It's been speculated that this is the reason why The Ultimate Sin was not reissued or remastered. Is this true? Who knows for sure? But if you want a copy of The Ultimate Sin, the only one that's available is the 1995 remasters version.
Song #2. Nothing Else Matters by Metallica
Lesson: In blog content writing, the only thing that matters is writing content that grabs a reader's attention, from the headline to the content. Don't write posts that already have been written on other blogs. Instead, study the posts and create a new angle. Or write a first-person post about how you overcame a problem. For example, if you have a small business, say a weight loss center, write a post detailing how you, the owner, lost 50 lbs. Show before and after pictures. Connect with your audience on an emotional level. [Read more...]